Cocktail Recipe: The Lyra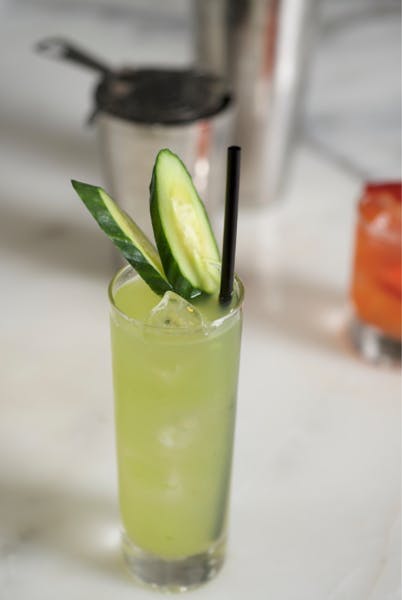 The Lyra Cocktail
As the excitement of winter wears away, our minds turn to the balmy, blue-skied promise of spring. While it isn't exactly around the corner, we're swapping our favorite wintertime cocktails (sidecars and manhattans) for something a bit lighter.
Below is the cocktail for the Lyra, the much-loved refreshing cocktail from Calissa's recipe vault. The eponymous Lyra constellation appears in Greek mythology as the lyre of Orpheus, said to create music so beautiful that it charmed even the trees, flowers and oceans. Consider us charmed as well!
The Lyra for One
.5oz Lemon Juice
0.5oz Lime Juice
1oz Rosemary Simple Syrup
2 Slices Jalapeño, De-Seeded (include if you want a spicier drink)
3 Slices Cucumber
2oz Gin
Muddle first five ingredients well in a cocktail shaker. Add gin and ice; shake. Pour over ice; strain if you wish. Top with a splash of soda and garnish with a cucumber slice.
The Lyra for a Crowd
This recipe is easy to make ahead and serve out of a big glass pitcher. The green color will be even more intense.
10oz Lemon Juice
10oz Lime Juice
20oz Rosemary Simple Syrup
4 Jalapeños, De-Seeded
2 Large English Cucumbers, Peeled
40oz Gin
Blend all ingredients except for gin and strain in a fine mesh chinois. Add gin and refrigerate until needed.
Rosemary Syrup
Bring 4 cups sugar and 4 cups water to a boil for one minute. Turn off the flame and add 3 sprigs of fresh rosemary. Let sit for three minutes; remove rosemary and refrigerate once syrup has cooled.